Post by Whitney Alice Little on Apr 4, 2012 10:18:45 GMT -5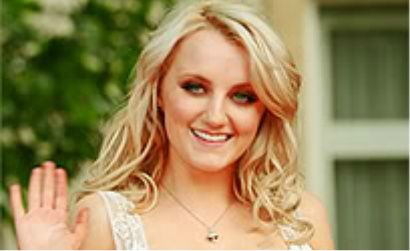 WHITNEY ALICE LITTLE
FULL NAME: Whitney Alice Little
NICK NAME: Whit, Whitney Alice, Walice(only her sister)
AGE: 27
COMMUNITY SUPPORT: Apothecary
ORIENTATION: Nonsense
SPIRIT AND MOVIE: Alice from Alice in Wonderland
FACE CLAIM: Evanna Lynch
EYE COLOR: Striking light blue
HAIR COLOR: Subtle pale blonde
HEIGHT AND WEIGHT: 5'6" and 160 pounds of curiosity
DESCRIPTION: Whitney is an average young woman for her age by appearance. Average height and average weight, but that is where her being average ended. Whitney's pale blonde hair reached down to her lower back, if she wanted to she could tilt her head back slightly and sit on her hair. With her hair so long, she often used a bow to try it back or she would put on an artsy hat.
Her eyes were a strange type of blue, having changing hues and highlights in her irises that would cause her eyes to appear as different shades of blue. Sometimes and in different lights, Whitney's eyes looked like a bright cerulean or a deep navy or then again they could turn to a faded blue-gray, one simple never knew with this girl.
Her sense of style matched her eyes, meaning it was all over the place. One day she would wear a cropped leather jacket with a plain shirt underneath, ripped jeans and boots, and then the next she'd be wearing a flowing summer dress. Whitney didn't really know if she was a tomboy or a girlie girl so she dressed like both. However, she also didn't know which decade she was living in either. Her wardrobe had an outfit from nearly every decade at least, she even had some victorian era dresses and pea coats. Her sister, Winnie, liked to make fun of her and her outfit choices.
PERSONALITY: If her outwards appearance was anything to go by, then her personality was all over the place. Whitney was above all a curious child. Even to this day as a 27 year old, she continued to annoy her mother with a million questions. Anyone she meets know just after knowing her for twenty minutes, her mind doesn't stop pondering the what ifs and whys of life. As a child she wondered what the world would be like if it ran by her rules, but often she never came to the same answer twice. If it wasn't her curiosity getting her into trouble, it was her impulsive nature that did. If Whitney wanted to go fly a kite, she would, even if she was in the middle of a class. She'd follow any whim she had and had no qualms doing such. Her mother once told her shed follow a butterfly if it so happened to land on Whitney's nose. Whitney is also a happy-go-lucky kind of girl, that unless in a very difficult and complexing situation, was hard to upset. She stood her ground and was happy to do as she pleased.
HAS BEEN LIVING IN MEMORY: 5 years
HOMETOWN: Cambridge, Massachusetts
FAMILY MEMBERS: Father Johnathan Allen Little.
Mother Wendy Anne Little
Younger sister Winnie (Winifred) Abigail Little
HISTORY: Whitney spent her whole life in Cambridge, going to private schools with her sister, Winnie. Whitney was a smart girl, achieving high marks even though she often mixed up or forgot what her lessons were about. In Elementary school, Whitney annoyed all her teachers with quizzical, nonsense questions that they often wrote her parents telling them that she needed to get her head out of the clouds. Whitney's mother Wendy never minded the crazy and wild stories that Whitney made up as a child, but her father Jonathan wanted Whitney to grow up and put her head in the real world. Her younger sister Winifred loved Whitney's stories, often asking for them as bedtime stories, well into her preteen years.
Whitney did eventually grow up like her father wished, but it wasn't until she was in her senior year of high school that Whitney's stories became more like reality and less like fantasy. Whitney had applied to all the ivy league schools her father wanted her to attend, and she got into a few, namely Harvard, Yale and Dartmouth. Her family was thrilled but Whitney didn't share her family's excitement. Whitney wanted to see the world, she wanted to see more than just Massachusetts. She wanted to pack a bag, get a plane ticket, fly to London and backpack around Europe. She wanted to go to Africa after then Asia, Australia, south America, see the rest of the 50 states before going to Canada and then back to Cambridge to regale her wonderful adventure. She knew her sister would support her, but her parents wouldn't have. They wanted her to finish her education and have the best possible education she could. Eventually, that's exactly what Whitney did, she went to Harvard.
Whitney spent four years at Harvard learning all she could about philosophy and psychology. She took all the honor courses she could to make her parents proud. Her teachers would also proud of her, especially her philosophy teachers. They felt she had a brilliant mind and kept encouraging her to pursue a masters and doctorate of philosophy or psychology. Whitney had the grades and mind to do such and achieve with flying colors, but she still wanted to go travel the world. At her graduation, the her father continued to try to talk her into go to apply to graduate school, but Whitney refused to budge. She told her parents she wanted to take some time off from formal schooling, shed been in the education system for more than half her life. She was 21, she wanted to have some fun, see the real world. Eventually, her father let up on his pestering when she said if she didn't find a job she loved within two years of graduating, she would apply to graduate school and go back for her masters and doctorate all in one shot.
It was beginning to look like her father would get his wish, until a strange letter arrived shortly after Whitney turned 22 in June. The letter talked of a place in Maine called Memory, a place for special gifted people like herself. The letter invited Whitney to move there, to learn more about herself and her dreams of the white rabbit in a waist coat with a pocket watch, of teacups and singing flowers. At first Whitney was scared of the letter, she never told anyone about her dreams of the rabbit, flowers and cups. However, her curiousity began to eat away at her until finally she wrote back to the sender. All Whitney got back as a reply was "Come and see for yourself in Memory, Maine." Whitney decided then and there she had to go find out. That night Whitney packed her bags and booked a bus ticket to Maine for the next morning. Her family was not happy at first, once she said she had a job waiting her there, they were a little more supportive about it.
When Whitney first arrived in Memory she love it there, her sense of adventure was finally able to do anything and everything she wanted. Whitney found an apartment in the resident district and got a job at the Apothocary. Durning her off time Whitney would explore the fields and town, but for the first year she stayed away from the woods, not because she was told not to go there but because she had other things in the town to explore to occupy her time. She found rivers and caves, spent time at the beach and the ocean. She went to the abandon builds that the town deemed unsafe for living, she climbed trees and played in the park. Until her second year in the town, then she went into the woods.
On one of her weekends off from the store, she packed a bag with her sleeping bag, a tent she bought, a flashlight, food and plenty of drinks. She had planned to make it a small camping trip so she could fully take in the woods and her surroundings. However, the trip didn't go as planned. After her first night in the woods she had only come across some deer, rabbits and other small harmless creatures, until she reached a rather large lake, then things got weird. It was a hot day of summer, so when Whitney came across the lake, she decided it was time for a swim. With no one around, Whitney stripped and jumped into the lake, to save herself from slowly adjusting to the water. That was her first mistake. The water felt like knives against her skin, trying to stab her for daring to disrupt its calm waters. When her head broke the surface of the water, Whitney went to take a deep breath, second mistake. Something in the water grabbed her and dragged her down, causing her to get a mouth full of water. Whitney started to choke and splutter, but it was too late, the poison from the water had already started flowing through her system. To this day she still doesn't know how she got out of the water alive, but she did. It was later when she was telling a customer in the store of her camping trip did she discover that she had jumped into the Pool of Tears. Three years later and Whitney has yet to step foot in the woods again.
DISNEY CHARACTER: Alice
STATUS: dormant
ABILITIES/ATTRIBUTES: Grows and Shrinks depending on the food or drink, can travel through mirrors, and can cause vivid daydreams into Wonderland to those she touches.
DESCRIPTION: Alice is still dormant within Whitney, even though Whitney has been in Memory for five years. Even though her spirit is dormant, Whitney has been noticed some strange things, like when she eats white mushrooms she shrinks, and when she eats yellow cake, she grows. Whitney hasn't figured out who she is playing host for, but she knows that she belongs in Memory with all the other strange people. When Alice does finally make herself known to Whitney, they will get along just fine because their personalities are very similar.
YOUR NAME: Lilee
YOUR AGE: 16
YOUR RP EXPERIENCE: 3 years
YOUR SAMPLE: Sammy has detested snow for three years now. It was the one season where his human form kept him at disadvantage. He had to act like he was cold, which required wearing a puffy jacket, hat and gloves, all contraptions that kept him roasting. Any human would love this, but for Sammy, being the reincarnation of Gopher, made this lovely heat, unbearable. Gopher's fur wanted to keep his body from freezing and Sammy had yet to figure out how to shut that internal safeguard off.
However, there was one thing about winter and the snow that Gopher's internal operations were good for, ducking and weaving. Two skills that proved handy every city-kid snowball fight. It was tradition that Cory and Sammy play on the blue team in the fight. Despite the fact that their team never won, Sammy and Cory were the best on their side.
Cory had great throwing skills, especially distance, while Sammy had the fast reflexes and sensitive hearing and sight that gave him a slight edge, even though his throwing skills were little above par. Sammy was just thinking about how he could improve his aim and distance, when Cory's voice snapped him to the field. He watched as Cory fired a snowball straight across the field, from about the back boundary, they sure did have a shot this year. If only there was a way to combine both their skills into one person, or even their whole team, then they were sure to win.
Sammy was plotting how to do such a thing, without the use of explosives, his favorite beginning and back-up plan. Gopher had some major issues, but Sammy wasn't complaining. It gave him a joy to see objects one minute and pieces the next, separated by the playful fire and resounding boom. The first year they lost, Sammy immediately wanted to stuff sticks of TNT into the snowballs come the next fight.
Sammy was just about to ask Cory, what the strategy would be this year, when Cory told him that he had invited Lucy. Sammy had to hold back rolling his eyes and slapping Cory. The boy might as well have stayed 12 back in Never Land when it came to Lucy. Sure, she was a nice enough girl, heck Sammy loved hanging with her and Cory, but she was as bad as Peter. Sammy could never tell if she had figure out who she really was yet, so it was difficult not to call her Tink. She was by Cory's side, just like Tink was to Peter's. The three of them where together on mischief, and Sammy just wanted Peter and Tink fully back.
Sammy thought about Cory's question for the first time, and he knew that Lucy could hit people. If she was anything like Tinkerbell, then the red team should hope not to tick her off. She could be one mean fairy, need be. To bad, Cory hadn't figured out he was Peter yet, he could up and pelt the red team from the sky, and Tink could blow pixie dust on snowballs and send them flying at the red team. That would be a great snowball fight. Laughing lightly, he finally replied, "Yeah, I think she can hit a few. At least I hope she will. We need help this year. We're so close to winning, I can taste it."
He bent down and formed a snowball before turning back to Cory. "So when is Lucy coming? It's about to start. You ready to win it?" Sammy bounced the ball up and down while the teams formed around them and more kids started packing snow between their fists.